Rio Grande Classic 2023 – May 26th, 27th, 28th, 29th
Dear Pilots:
Welcome to Rio Grande Classic 2023!   On behalf of the entire RGC Committee and the Top Gun Board of Directors, we are looking forward to an amazing event!
Pilots will be competing for RGC Champion, SW Regional Champion, and NM State Champion.
A special thank you to all our sponsors.
Our Maverick Sponsor is AERCO-Balloon Port!
Goose Sponsor: Highland Balloon Repair
Iceman Sponsors: K & V Accounting, Albuquerque International Balloon Fiesta, TBC General Contracting , and Electric Motor Co, Power Generation Service
Viper Sponsors: Centric Title, Primary Colors/Oodaloop Ballooning, Desert Valley Plumbing Heating and Cooling and BrewLab 101
Jester Sponsors:  Edustat Air, Siarza:Digital Public Relations and Advertising, and Ace of Paws
In-Kind Sponsors: Coldwell Banker Legacy, SW Cyberport, Treat Yourself and Marble Brewery
We will be using the Remind System for Pilots and Crew Chiefs.   Pilots will be automatically entered, and you will receive one test communications prior to RGC to confirm that you are in the system.  Crew Chiefs and other crew can sign up by texting 81010 and use the code @7c3c7e3
Your Event Directors for the 2023 Rio Grande Classic are: Maury Sullivan & Sam Parks
Maury Sullivan – RGC Event Director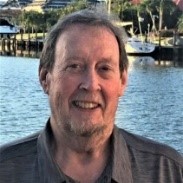 Sam Parks – Assistant Event Director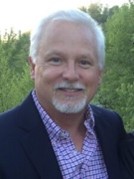 If you would like to view Maury and Sam's full bios please visit the main RGC website.  You can count on some incredible tasks being called by Maury and Sam for the 2023 Rio Grande Classic!
Please Visit Watchmefly.net for all important updates, Official Rules, map downloads, etc.
RGC Cash prizes (Open to all RGC Pilots)
1st Place – $800, 2nd Place – $400, 3rd Place – $200
Southwest Regional Championship (Open to all NM, TX and OK Pilots)
1st Place – $500, 2nd Place – $300, 3rd Place – $100
NM Championship (Open to NM Pilots only)
1st Place – $500, 2nd Place – $300, 3rd Place – $100
Schedule of Events
Friday, May 26th
Practice flight morning briefing – Coldwell Banker Legacy at 5:25am
500 Unser Blvd SE, Rio Rancho, NM 87124
Propane is on your own for this practice flight
Registration Party:  Friday, May 26 from 4 pm to 7 pm at the BrewLab 101
3301 Southern Blvd SE, Rio Rancho, NM 87124
Register and pick up your pilot banners, badges, and shirts.
Pilots and crew welcome. Appetizers and cash bar available.
Master Briefing will be at 6 PM – ALL PILOTS MUST BE THERE
Saturday, May 27th and Sunday May 28th
Morning Briefing – Rio Rancho Middle School at 5:25am, doors open 5am
1600 Loma Colorado Blvd NE, Rio Rancho, NM 87144
Continental Breakfast & coffee provided
Pilot plus Navigator/Crew Chief only in briefing room
Please see attached map for exact entry, parking and location within the school
Post Flight (BEFORE FUELING) Drop off baggies/loggers-Coldwell Banker Legacy Competition Center
500 Unser Blvd SE, Rio Rancho, NM 87124
Please enter drop off lane from Unser Blvd northbound (See attached Map)
Refuel at Pinnacle – 8 am to Noon
6400 Edith Blvd NE, Albuquerque, NM 87107
Must present your pilot badge for refueling.
Enjoy your afternoon and don't forget to visit our sponsors BrewLab 101 and Marble Brewery!
Monday, May 29th
Morning Briefing – Rio Rancho Middle School at 5:25am, doors open 5am
1600 Loma Colorado Blvd NE, Rio Rancho, NM 87144
Continental Breakfast & coffee provided
Pilot plus Navigator/Crew Chief only in briefing room
Please see attached map for exact entry, parking and location within the school
Post Flight – Drop off baggies/loggers-Coldwell Banker Legacy Competition Center
500 Unser Blvd SE, Rio Rancho, NM 87124
Please enter drop off lane from Unser Blvd northbound (See attached Map)
Awards Ceremony and lunch – Pongal Events Center 11 am – 1 pm
1101 Golf Course Rd SE, Rio Rancho, NM 87124
Pilots will each receive 5 tickets. Additional tickets may be purchased for $15
Important Phone Numbers:
Event Director, Maury Sullivan, 303-323-4455                     Asst Event Director, Sam Parks, 505-280-0637
Weather Officer, Ray Bair, 505-934-1223                                Safety Officer, Pat Chado, 505-228-4638
Measuring Teams, Dave Bagley, 505-226-3266                    Scoring Team, Andi Babcock, 505-620-2190
Steward, Lynn Sullivan, 330-323-4673                                     TG President, Kelly Price, 702-845-0080
RGC Co-Chair, Jessica Price, 505-850-0173                            RGC Co-Chair, Elisa Talbert, 505-269-2503
Photos to Help In Navigation:
Coldwell Banker: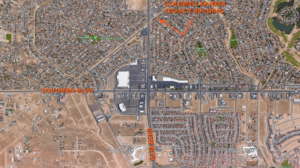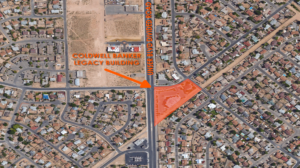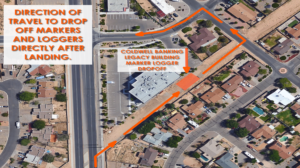 Rio Rancho Middle School: